ARMENIA: THE CRADLE OF CIVILIZATION
THE BEGINNING OF HUMAN CIVILIZATION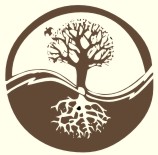 Written by
Gevork Nazaryan
The recent sensational discoveries by a team from the German Archaeological Institute [the first findings were made in 1994 and are still ongoing], led by field director Dr. Klaus Schmidt and Harald Hauptmann -- at Göbekli Tepe [lit. navel Mountain], 15 km northeast of the city of Sanliurfa, near historic Urfa or Urha, the point of origin of the Armenian Solar cult of Orion that later spread to other parts of the globe, has been a truly revolutionary archaeological discovery. The cult site consists of circular stone formations that look similar to those in Stonehenge, only that Stonehenge is about 6,000 years younger.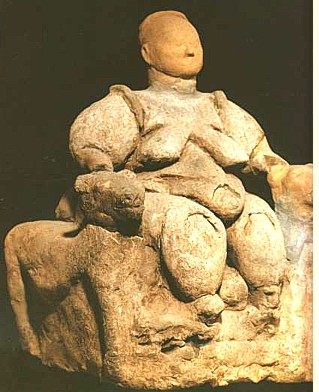 A Y A - - T H E M O T H E R G O D D E S S
S E A T E D B E T W E E N T W O L E O P A R D S A N D G I V I N G B I R T H
S Y M B O L I C O F F E R T I L I T Y A N D L I F E
'...At Ice Age's end, sociality would draw men and women into conformity chambers of unprecedented size. One byproduct would be conformity's antithesis - diversity - surging ideas at ferocious speed into the arteries of the inter-human brain. Old networks would give way to new, hastening the pace at which the fuel of concepts from afar would kindle flares of fire in the furnace of mass mind...'
from -- 'The End of the Ice Age and the Rise of Urban Fire'

The first human settlements took place around the cities of Urfa [ancient Armenian Ur-hay] and modern day Diyarbakir [near the ruins of Tigranakert] in the historic Alznik province of Armenia. Excavations at one of these sites, Nevali Çori, revealed clues that the Neolithic Age had started between 12,000 and 10,000 B.C. in this area, at least 500 years earlier than at Çatal Hüyük and Hacilar. The temple architecture found here gives important clues about the beliefs of the first Civilization builder settlers, as well as for their time period very sophisticated architectural techniques. Their use of T -shaped pillars showed an advanced knowledge of how to build strong, load-bearing structures. Göbekli Tepe, shows similarities with Nevali Çori and provides support that earlier advancements in human life had taken place in the Armenian Plateau and its immediate vicinity. Rooms excavated at the site have revealed stone pillars decorated with floral and faunal reliefs. It was here at Göbekli Tepe where some of our hunter-gatherer ancestors [who were just starting to settle down and organize into societies] first created sophisticated art for ritual purposes.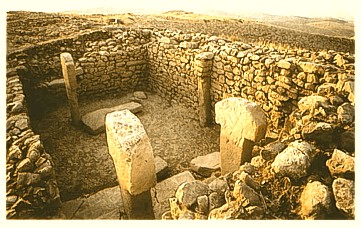 GÖBEKLI TEPE. THE REMNANTS OF THE T-SHAPED PILLARS THAT
SUPPORTED THE MAIN SANCTUARY OF THE TEMPLE.
THE PILLARS ARE ADORNED WITH LION RELIEFS.
An ancient place of worship, Göbekli Tepe was a very important cult site carbon-dated to the second half of the 9th millennium BC [the finds have been published in the prestigious scientific magazine Bild Der Wissenschaft entitled -- 6,000 Years before the Pyramids! describing the world's oldest temple located in Armenian Plateau and dated to circa 9,000 BC -- or 11,000 years ago! thus making it older than the renowned city of Çatal Hüyük. Göbekli Tepe reflects what the experts say is the place of the Neolithic Revolution, a turning point from the earlier hunter and gatherers Epipaleolithic era to that of the Early Neolithic era [of first settlements] in Armenian Plateau and upper Mesopotamia. At the entrance of the historic site stand four megalithic limestone pillars, 7 meters tall and weighing perhaps 50 tons each. Two of them bear the image of a snarling lion defending what Hauptmann believes to be a cult sanctuary or shrine. Erected without the aid of domesticated animals 6,000 years before giant structures were built in Pharaonic Egypt, the pillars suggest that early Neolithic workers knew how to use poles, boards and pulleys to handle huge stones. Hauptmann's site also features a unique floor relief of a squatting woman [one of the early depictions of AYA -- the Mother Goddess] -- perhaps giving birth-- reliefs of a variety of animals, and a field of flint chips, indicating the site also hosted a fairly sophisticated tool- and weapon-producing operation.
http://www.armenianhighland.com/cradle/ah.html
Shengavit: a seven thousand year old dwelling:
http://www.armenianow.com/2003/nove...atures/history/
Metsamor: Pre-ancient dwelling a center for metallurgy and astronomy:
http://www.tacentral.com/history/metsamor.asp
/
http://www.tacentral.com/astronomy.asp?story_no=3
Petroglyphs: Neolithic depictions of celestial bodies, swastikas, wheeled transportation, etc:
http://www.arminco.com/hayknet/naskal.htm
/
http://www.iatp.am/ara/map/index.html
Pre-historic religions within the Armenian Highlands, Armenian national gods and goddesses:
http://www.ercole.net/hayaser/religion.asp
/
http://www.angelfire.com/hi/Azgaser/AR.html