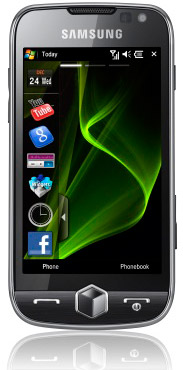 The Samsung I8000 made its first public appearance thanks to a Lithuanian online retailer. The I8000 pointed as the Omnia2 will sport a huge AMOLED touchscreen, 8.1 megapixel camera, full pack connectivity and Windows Mobile OS.
Samsung I8000 Omnia2
The successors of the
Samsung i900 Omnia
apparently will bear the model name I8000 - and also calling it Omnia2 is pretty straight forward as well.
The differences between both devices are a lot and Omnia2 will deserve a place on its own.
The Samsung Omnia2 sports a 3.7-inch WVGA TFT resistive touchscreen, 8.1 megapixel camera with dual LED flash and
[email protected]
video recording, 150 MB internal memory, a Qualcomm processor and a microSD card slot. The connectivity includes all you may need as usual - 3G support, Bluetooth, miniUSB, GPS and Wi-Fi.
Rumors speculate that the Windows Mobile OS on board (purportedly 6.1) will be heavily customized and will bear the Samsung's TouchWiz styling with deep menu restyling (much like the latest TouchFLO 3D in HTC Touch Diamond2 and Pro2). DivX/XViD support is also expected.
Until some official info gets out the door all we have here is just another rumor. The real announcement however will probably due quite soon as the
Samsung Unpacked
worldwide unveiling event is closing in (15 June 2009).
The Samsung I8000 Omnia2 seems to be a part of a bigger Samsung Cubic project, which also includes the
previously leaked
Samsung S8000 Jet and M8000.
Though not all of those devices are smartphones like the I8000 Omnia2, they all seem to share a cubical central button, which invokes some kind of Cube-like interface. But didn't LG already have a Cube interface? We guess they do. However you can fight the market trends.
One of our readers was quick to point us to a YouTube video demoing the Samsung I8000 customized WM interface (use the HQ button):